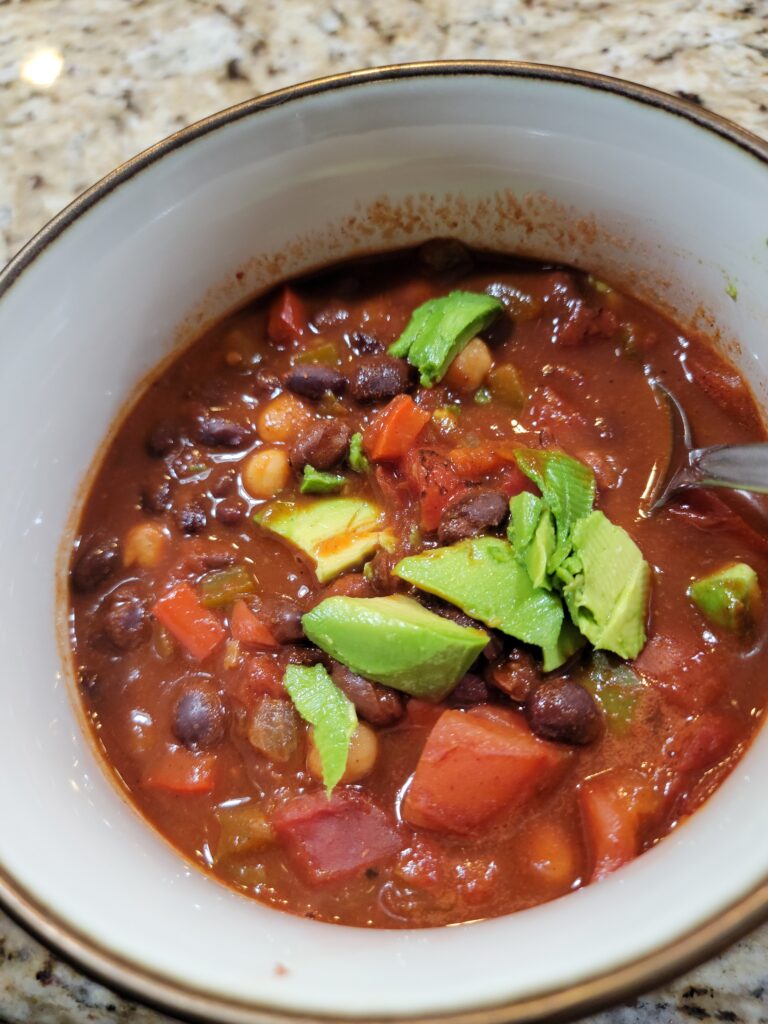 Prep Time
10 min
Prep Notes
I created this recipe to be fast friendly for those who participate in a Daniel type fast. It can be modified to include meet if veganism or vegetarianism is not your thing! The options are limited only to your imagination.
Cooking Time
30 min
Yields
6 servings
Ingredients
2 cans Black Beans (1 drained)
1-2 cans of Chickpeas (drained)
1 can Fire Roasted diced tomatoes
1 6oz can tomato paste
2 cups broth of vegetable broth
1 medium yellow onion chopped
1 medium green pepper chopped
1/2 medium red pepper chopped
Chopped fresh jalapeno (optional, add to taste)
2 tbsp olive or coconut oil
2 Tbsp chili powder
1 tsp. Ancho Chili powder
2 tsp ground cumin
1/2-1 tsp salt
1/2 tsp black pepper
1/4 tsp crushed red pepper (optional)
Optional toppings: avocado, cilantro, tortilla chips
Directions
Drain 1 can of the black beans and the chickpeas and set aside.
Heat oil in a pot over medium high heat. Add onions, peppers and jalapenos (if using) and sauté until fragrant, about 5 min.
Add drained chickpeas and sauté another 2-3 min then add all of the seasonings. Mix well and sauté an additional 2 min-3 min.
Add drained and undrained black beans, tomatoes and 1 1/2 cups of the broth. Mix well and bring to a boil.
Whisk the remaining 1/2 cup of broth with the tomato paste until smooth. Add it to the pot and reduce the heat to low.
Simmer on low for 10-15 min.
Serve with desired toppings.
Notes
This recipe can be adjusted to your liking! Experiment with and make it your own. Change the broth if you choose. Increase or decrease the heat.
If you choose, you can replace the chickpeas with chicken, turkey or beef. If you do add meat, season and cook it first then add to the pot when you add the beans.
Have fun with this recipe from Cooking with Crystal! I'd love to hear how it turns out for you.
Credit